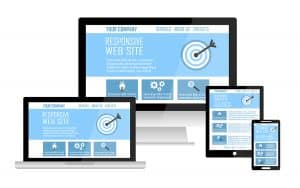 If you're looking for an affordable and effective way to promote your business online then there's no better place to start than with a static website
Perhaps you are looking for something a little more advanced through the use of added functionality such as an interactive or dynamic element to the site?
Whatever your requirements are we will be able to turn your ideas into a reality – whether that means buying and integrating existing software or creating something completely bespoke for your company.
Whilst it is easier to create a fully content managed site from the ground up a CMS and many interactive elements can be fitted in retrospect to your existing website if you're happy with the existing design rather than opting for a full redesign.
Get Started
Free Support

Monthly Backups

1-2 Months Completion

Uptime Monitoring *

Only if hosted through us
Get Started
Free Support

Monthly Backups

3-6 Months Completion

Uptime Monitoring *

Only if hosted through us
Website Redesign
Do you already have a website? Perhaps it is a few years old and is starting to look a bit tired? Maybe the design isn't responsive and is difficult to navigate and read on mobile devices? Even if the design is OK you might be concerned about the level of performance:
How do I increase the number of hits I receive?
How can I get more of the visitors to buy online and/or make an enquiry?
How do I get onto page 1 of Google for my keywords?
Should I start a PPC (pay per click) or SEO campaign?
One of the most popular add-ons is to add the ability to edit text or images on your website without needing to contact (and pay) a web designer. This is done by adding a content management system to your website. These allow you, as the site owner, to login and edit the content of your web pages without knowing programming languages such as HTML or PHP. All our sites are built with a content management system built-in as standard! If you are looking for other ways to enhance your existing website then navigate to our design elements page.
With any website there are lots of things to consider before having a website created:
What is your budget?
What are your goals for the website?
How much should you spend on design and how much should you spend on promotion?
Do you want a professional-looking website unique to your business or would you prefer to save money and use an existing template?
What is the best domain name to register?
How do you set-up a professional email address such as info@yourbusiness.co.uk?
 
Digital Marketing
Do you need to promote an existing website? CML Design, Lancashire can improve search engine visibility so that more people can find your website on the Internet through SEO / digital marketing.
CML Design Web Services can create a website for your business which properly represents your company online through a static website. The size and complexity of the site all depends on your budget and specific functionality/content requirements.
However, if you're looking to start selling products online you will need an e-commerce website. We build complete sites with stock control (if required) and secure payment processing.