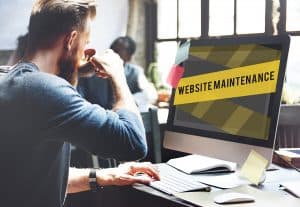 So you've already got a website?
How effective is the website at generating new customers/orders/enquiries for you? Perhaps it was generating enough enquiries when it was initially launched but the number of enquiries has slowly started dwindling? Well, maybe it's time for a redesign or perhaps a little website maintenance such as updating the content. Give CML Design a call on 01254 368523 or send us an email to enquire how we can help you 
generate more enquiries through your existing website
. Having the correct information on your website is just as important as having a website in the first place! It's no good if you're advertising incorrect prices or the wrong telephone number – you're potentially missing out on lots of sales if your website is in need of some maintenance. Maintenance contracts are available on a monthly retainer or on a PAYG (pay as you go) basis. Please contact us for a quote – the price we charge for maintenance varies depending on the amount of work involved and whether we can do the work remotely or not.
Maintenance Services
Website maintenance
POA. please contact us with your specific requirements.
Where do I start?
It can all be a bit over-facing if this is your first venture into SEO but you should start by discovering who your competitors are and what keywords they rank for – comparing their rank position with yours for the same keyword! We can conduct a
FULL SITE ANALYSIS
for you which provides you with all the initial reports you need to start your SEO journey plus an analysis report by our SEO expert for just £170